China Railway Networks is the most complex and busiest one all over the world. China Railway connects almost every city and town. In China train signifies safety, convenience and comfortable. There are several main China railway lines, they are Jingjiu Line (from north to south), Jingguang Line (from north to south), Longhai Line (from east to west) and so on. All the trains depart every day. Nowadays traveling by train is still main method for Chinese people. Choosing train you could experience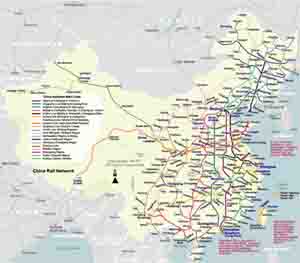 ordinary life in China and enjoy the unique scenery along the way. There are international trains link China to Europe through Mogolia, Russia, and arrive London, as well as Vienam, Central East Asia. These trains namely are Beijing-Moscow, Beijing-Ulan Bator (usually called Trans-Siberian Railway),Beijing-Hanoi, Vienam, Beijing-Pyongyang, and now there's a new train from Urumqi-Astana, Kazakhstan' capital started to run on 27 May 2008. Also there are trains to Tibet from Beijing, Shanghai, Canton, Xi'an, Lanzhou, and Xining. You could reach Lahsa from above cities by train. Also you could take train from Beijing to Kowloon, Hong Kong. Click right map for a big Clear China Rail Way Map.
There are 7 train types include: Shanghai Maglev Train, C Train, D Train, Z Train, T Train, K Train and Ordinary Train.
Shanghai Maglev Train : Construction began in April 2001 of the first commercial Transrapid system. Despite the fact that the maglev was the first revenue-producing point-to-point high-speed maglev in the world, the system was up and running by 2004. The 30-km line runs between Pudong Shanghai International Airport and the Shanghai Lujiazui financial district. An end-to-end ride takes about eight minutes. A world record for commercial maglev systems was set on November 12, 2003. A five-section train achieved the top speed of 501 km/h (311 mph) while another vehicle passed at 430 km/h on the adjacent track. The Transrapid in Shanghai has a design speed of over 500 km/h (310 mph) and a regular service speed of 430 km/h (267 mph). Shanghai Maglev is the fastest railway system in commercial operation in the world. Other maglev lines are under consideration in China.

G Train: You can call it bullet high speed train. It's the most modern and fast train ever have in mainland China. It runs about 300 Km/ Hour and from Beijing to Shanghai only take 4 hours. It will be connect Beijing and Xian by this train before 2013. Most train runs in day time and every 15 minutes departures one bullet.
C Train: The C Train is only between Beijing and Tianjin which is the first piece of High-grade express passenger transportation line designed with a speed of 350 km. This kind of bullet train has such characteristics as long maintenance cycle, small dusts, low noise and fine-looking, providing a basic foundation for upgrading railway speed. C train is the fastest of its kind in service in the world.

D Train: D means"China Railway High-speed (CRH)" in English or you can called as China Bullet Train. This is the most advanced train in China. Chinese so-called "D Train"
is similar to "Multiple Unit"(MU) in English, which is a type of railway vehicle groups. It can reach 200-300km/h.First class seat and Second class seat can be provided by D Trian.

Z Train: Z means "Express Train" in English. This kind of train is the most important and modern in China. On routes it doesn't stop before arriving destination. It's very comfortable to travel for a long distance but no longer than 1300KM which only take one night. You can board these train in the night and arrive next morning with a good sleep. Lots of Chinese business man and foreigners take this kind of train due to it's comfortable and save one night hotel expenses. The train is composed of Deluxe Cabin, 2 person with private bath, safe, Dvd system, as well as outlet for your laptop. Most of Z train are settled only Soft Sleeper and Deluxe Sleeper, due to the soft sleeper is much expensive than hard sleeper so it's for rich people and looks like not crowded. air-conditioned system, hot water, western styled toilet are no question be there. Restaurant car serving full meals. The Train Board is white colour like the train's exterior, see more photos by click below Train Board.




T Train: T means "Superior Fast" in English. It always stops in provincial capital cities and big cities. All of these trains have deluxe cabin, air-condition, restaurant compartment, toilet and washing room. The ticket classes include hard seat, soft seat, hard sleeper and soft sleeper. They connect all of the important cities in China, especia-lly the one that beyond 1000 KM which can not run Z train, like Beijing-Urumqi, Beijing-Kunming, since T settled Hard Seat, Soft Seat, Hard Sleeper which seldom settled in Z train so it's more crowded than Z train. And they will stop at big cities, not like Z train, not stop enroute. The Train Board is white colour like the train's exterior, see more photos by click below Train Board.




K Train: K means "Fast" in English, of cause it's compared with the slowest one. This kind of train has more stoppings than T Train. K Train has air-condition system. It also can make sure that every K Train has restaurant compartment, Chinese styled toilet and public washing room. The ticket classes include hard seat, soft seat, hard sleeper and soft sleeper. The Train Board is red colour like the train's exterior, see more photos by click below Train Board.




Ordinary Train: This train is named by 4 numbers, such as train 1461(Beijing-Shanghai) and train 1363(Beijing-Chengdu). It always stops at every little town enroute, it is the slowest and ticket is the cheapest in all train types. It always delay and If you don't hurry to next destination, you can enjoy the journey with crowded Chinese common people together it's a good choice, to deeply understand the comman Chinese people's life. Also you can find the real China from little towns with friendly venders and villagers .There are hard seat, soft seat, hard sleeper and soft sleeper avaiable. Most of them don't have air condition system,so it will be hot if you travel in Summer with it. Only with Chinese styled toilet and Restaurant Car does exist. The Train Board is green colour like the train's exterior, see more photos by click below Train Board.