Tour Code: CTT-15 Private Tour not Join-in or Seat in coach Tour
Duration: 5 Days
Destinations: Shanghai → Hangzhou → Shanghai
Tour Price: from 563 USD Click for Price Details
Departure Dates: Daily Departure.
Tour Description: Private land tour with well selected hotel, the cities connected by overnight comfortable Z train ( Soft Sleeper ) Private Guide and driver only for your family. You will see the most classic tour sites of the Bund, Nanjing Road, Yu Garden at Shanghai Etc. and
FREE LUNCH at Revoving Restaurant of shanghai Oriental Pearl Tv Tower !
FREE TOUR to Xintiandi and Shanghai Museum !
---
Shanghai HangzhouTrain Tour Itinerary: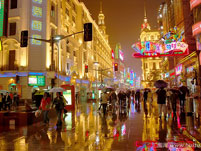 Day 01Arrival in Shanghai( Meals: -/-/D )
Our guide will meet you outside the baggage claim area at Shanghai Airport and transfer you to the hotel. Visit the Bund, have a stroll along the waterfront to experience the smells, sights and sounds of the old "Wall Street" in Shanghai. Banks, trading houses, residences, hotels and clubs all had a view of bustling Huangpu River traffic as they shared in the city s rising and falling fortunes.and the Nanjing Road.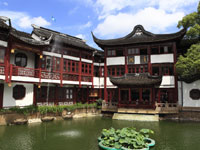 Day 02Shanghai ( Meals: B/L/D )
Visit the Oriental Pearl TV Tower, Shanghai Museum which mainly composed of eleven galleries.and the Yuyuan Garden, it is well worth a meander through the Yu Garden, which has many scenic courtyards decorated with baroque rockery, pools and flora, all connected by corridors and passageways.The a la carte farewell dinner is served at Central Hotel, whose restaurant Wang Bao He has a history of around 260 years and is the best place to serve Shanghai Cuisine. The memorable dinner will be followed by the Acrobatic Show at the Shanghai Centre Theatre.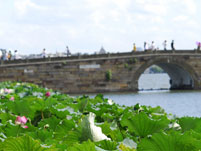 Day 03Shanghai - Hangzhou by soft seat train( Meals: B/L/- )
Visit the Jade Buddha Temple, it is the most famous and one of the most active Buddhist temples in Shanghai. Named for its two bejeweled white jade Buddha, one is 1000kg, 1.9 meter-high figure carved from Burmese jade brought to China in 1882,. Take a soft seat train to Hangzhou and transfer to the hotel. Visit the Six Harmonies Pagoda, the name of Six Harmonies Pagoda derives from the Six Buddhist Harmonious Dharmas. It is said that the pagoda was first built to suppress the tidewater of the Qiantang River.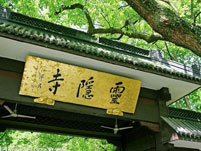 Day 04Hangzhou( Meals: B/L/- )
Visit the Lingyin Temple is famed as one of the ten most renowned Buddhist temples in China. the West Lake, in ancient times, the West Lake had several names, such as Wulin Water, Qiantang Lake and Xizi Lake. In the Song Dynasty, it was called the West Lake and this name has been used until today. the Red Carp Pond and the Traditional Chinese Medicine Museum.
Day 05 Hangzhou-Shanghai by soft seat train( Meals: B/-/- )
Take the soft seat train back to Shanghai.Then you will be transferred to the airport for your homeward flight.
Price of this Tour ( USD $ )
( Mar, Jun - Aug ) Prices of 2015
( Apr - May, Sep - Nov ) Prices of 2015
( Dec 2015, Jan 13 - Feb 2015 ) Prices of 2015
* Prices are in US dollars, for one Adult. Check Tour Price Includes / Excludes / How to Settle Booking.
Child price is 50% of Adult ( 2- 12 years old ) Infant price is 10% of Adult (0-2 years old) Both Sharging beds with parents.

"I like this China Train Tours program, but I need adjust a little."
-- Please let us know your idear and we will customise the tour for your, totally free!